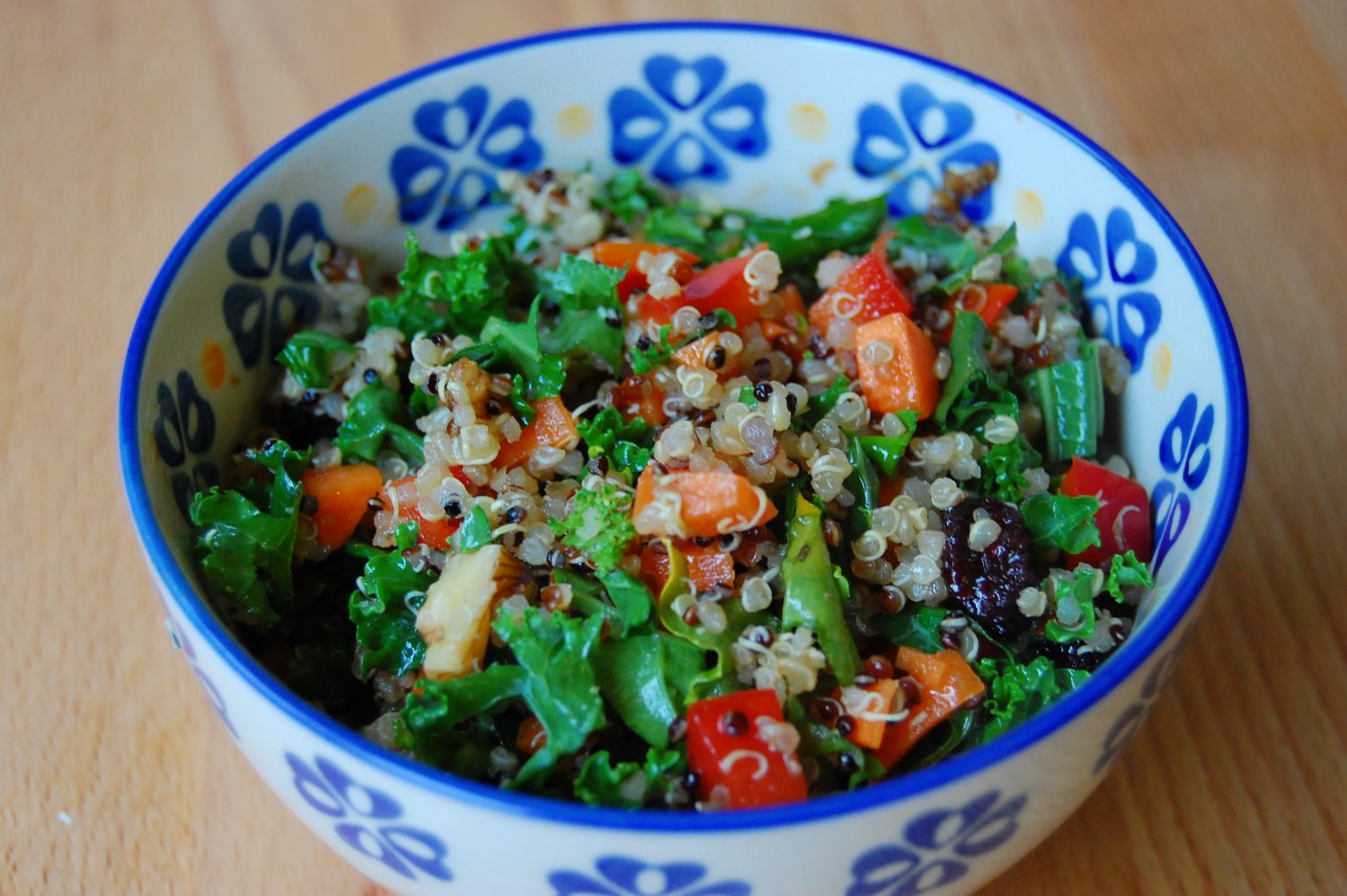 09 Jun

Kale and Quinoa Salad
The Mighty Kale!
Kale is a superfood!  It's high in antioxidants, potassium, calcium and Vitamins A, C and K.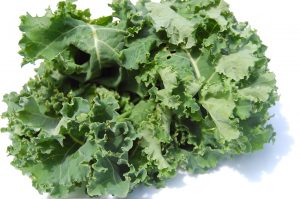 Add it to soups, smoothies and salads to give them that extra health kick.  One great advantage of kale over other leafy greens, is that it doesn't wilt when covered with dressing.  This makes it great for pre-dressed salads such as a Caesar salad that are often dressed ahead of time.
Kale can be a bit tough and chewy.  To avoid this, take a couple minutes to 'massage' your kale with your fingertips. Also, chop it more finely than you would other greens.
Kale and Quinoa Salad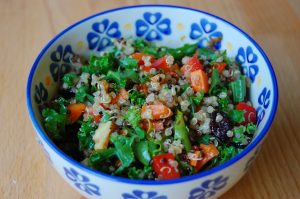 This recipe is my 'go-to' dish for pot-lucks.  It's a great combination of crunchy and chewy, sweet and savory, and can be made ahead of time.  It's also loaded with healthy superfoods:  kale, quinoa, garlic, walnuts, peppers, ginger and olive oil!
Rinse and cook the quinoa
Chop the veggies (carrots, kale and red pepper)
Add the veggies, nuts, and cranberries to the cooked quinoa.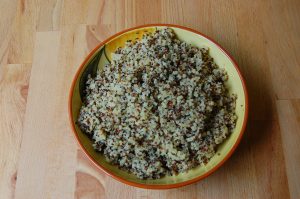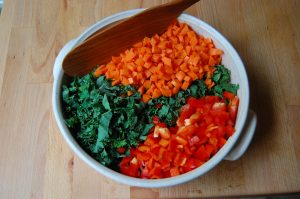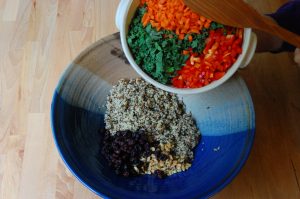 Assemble the dressing ingredients,
Chop, measure and whisk them together 
Add the dressing to the salad ingredients.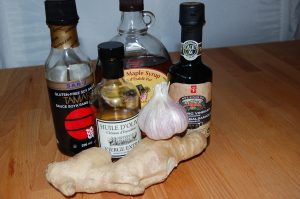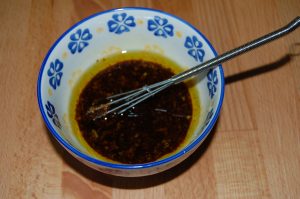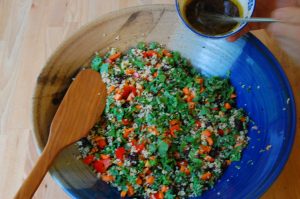 Kale and Quinoa Salad
For the salad:
1 cup quinoa
2 cups water or stock (for cooking the quinoa)
1 bunch of kale chopped
2 medium carrots diced
1 red pepper diced
½ cup walnuts chopped (use pumpkin seeds if allergies are an issue)
½ cup dried cranberries or fresh blueberries
For the Dressing:
¼ cup olive oil
¼ cup balsamic vinegar
1 Tbsp. Tamari or soy sauce
1 – 2 cloves garlic minced (or green garlic)
1 – 2 Tbsp. finely grated ginger
1 Tbsp. Maple syrup, honey or brown sugar
1 Tbsp. water
1 tsp. toasted sesame oil (optional)
Soak the quinoa in water for a few minutes.  Then rinse and drain thoroughly.  Cook in 2 cups of water or stock:  Bring to a boil, then  reduce heat, cover and simmer until the water is absorbed and quinoa is soft and fluffy (about 15 minutes).
Let the quinoa cool and add the rest of the salad ingredients.
Mix the dressing ingredients, and stir into the salad.
Refrigerate to allow the dressing to infiltrate. Salad will keep for 3-4 days in the refrigerator if using dried cranberries; less if using blueberries.