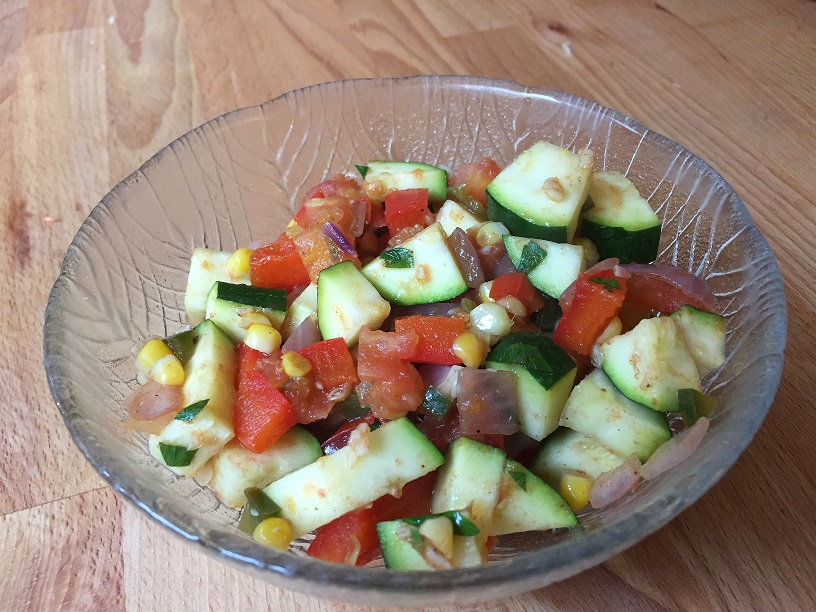 29 Jul

Calabacitas – Muskoka Style!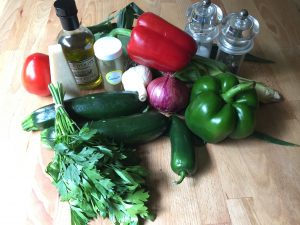 This is the perfect August recipe, when everything is fresh and local!  Corn, zucchini, garlic, tomato, peppers and onions are all freshly harvested and available for eating.  It's a Mexican dish, but I have adapted this version to sync with the August harvest.  Instead of Poblano peppers or green chilis, I use jalapenos.  I've also added fresh tomato and bell peppers to give it some colour and extra flavour.
Traditionally, this dish is topped with grated cheese, but I prefer it without.  If you're in need of a main dish, try adding a can of black beans for a delicious protein-filled meal!
The 'backbone' of the recipe is zucchini and corn.  From there you can experiment with anything you like.  Try basil or fresh oregano in place of cilantro.  (Is it true that some people are genetically-inclined to detest cilantro?)  Try this version, or make one you can call your own!!
Muskoka-style Calabacitas
The recipe starts with a lot of dicing and mincing.  Sharpen your knife!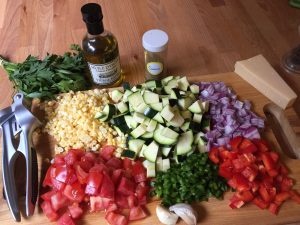 Ingredients:
1 red onion, diced
2 tbsp. olive oil
1 or 2 jalapenos, minced (I used 1 large one)
1 or 2 cloves garlic minced
Corn kernels from one large ear of corn (or 1 cup of frozen corn)
½ red bell pepper, diced (optional)
1 large tomato diced (optional)
1 tsp cumin
1 tbsp. fresh cilantro
2 zucchinis, diced
salt and pepper to taste
Optional:  grated cheese for topping
Instructions
(Steps 1 – 3 can be done ahead of time.  Step 4  should be just before serving.)
In a large pot, sauté the onions and jalapenos for 3 minutes.
Add the minced garlic. Sauté 1 more minute.
Add the corn, bell pepper, diced tomato and cumin, and sauté for 2-3 minutes.
Add zucchini and cilantro. Cook an additional 3 – 5 minutes, until zucchini starts to soften.  Season with salt and pepper. Serve immediately.