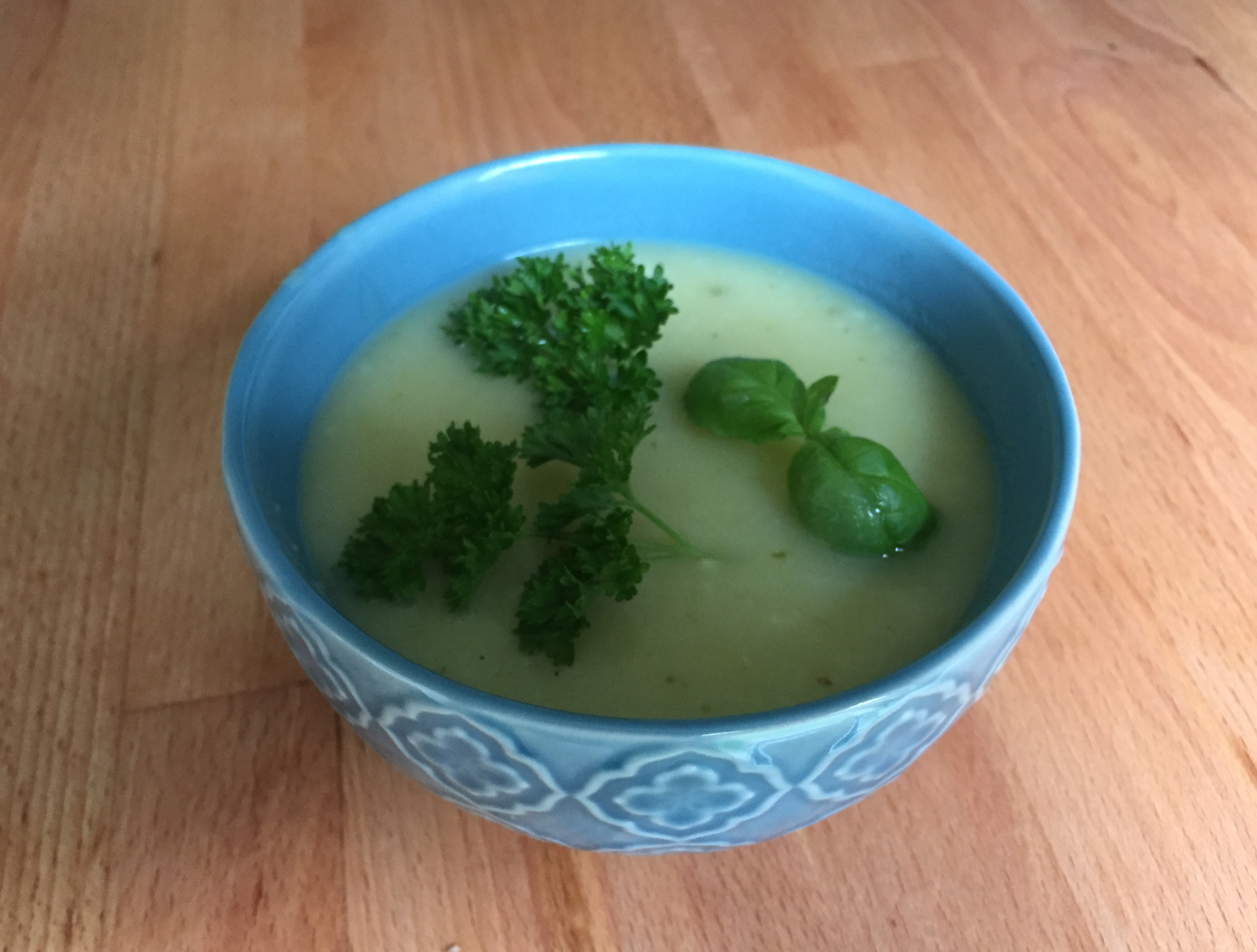 27 Oct

Leek and Potato Soup
It's definitely fall.  We had a lovely warm spell, but the cold weather is on its way.  What better way to ease into it than the ideal comfort food, leek and potato soup.

I found most recipes to be a bit bland, so I added jalapeno to the mix.
Another tip:  Home-made soup stock, and fresh herbs.  Either boil down a free-range chicken carcass or use all the veggie scraps (celery, carrots, herbs, kale etc) from previous meals.  Makes a difference!
It's a simple procedure.  Sauté  (really should be "Sautez") the leeks, garlic, and jalapenos in butter.  Then add the stock, potatoes and herbs.  Boil until the potatoes are soft.  Then use an immersion blender to smooth everything out.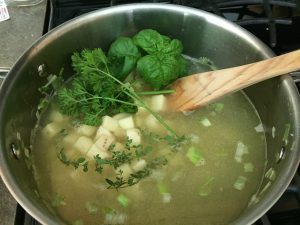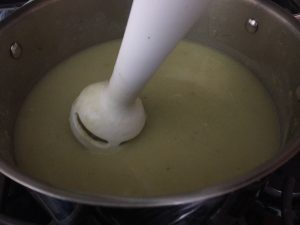 Sauté the leeks, garlic and jalapenos.
Add the stock, and dices potatoes.  Boil until potatoes are soft.
Leek and Potato Soup
1 bunch of leeks (about 3 very large leeks)
3 cloves garlic minced
2 jalapeno peppers minced (discard the seeds)
3 tbsp. butter
1 lb potatoes diced (about 2 medium)
7 cups soup stock (I use home made from Gnarled Stump chickens)
Sprigs of fresh herbs (thyme, parsley, basil)
2 tsp salt
1 tsp pepper
Fresh herbs or chives for garnish
Cut off the leafy end of the leeks and discard. (or use for soup stock)  Split the leeks in half lengthwise and wash thoroughly.  They tend to be sandy .
Melt the butter in a large, heavy-bottomed soup pot.
Cook the leeks, garlic and jalapeno, stirring often, until the leeks are wilted. (about 10 minutes).  Keep the heat low so as not to brown them.
Add the potatoes, soup stock, salt, pepper and herb sprigs. Bring to a boil, then simmer until the potatoes and leeks are very soft.  (15 – 20 minutes).
Fish out the sprigs of herbs and discard.
Using an immersion blender, purée the mixture until smooth. Be careful not to splash yourself or create modern art on the wall!  If you are using a traditional blender, process in batches, filling the blender less than half-full each time.
Garnish with fresh herbs or chives.