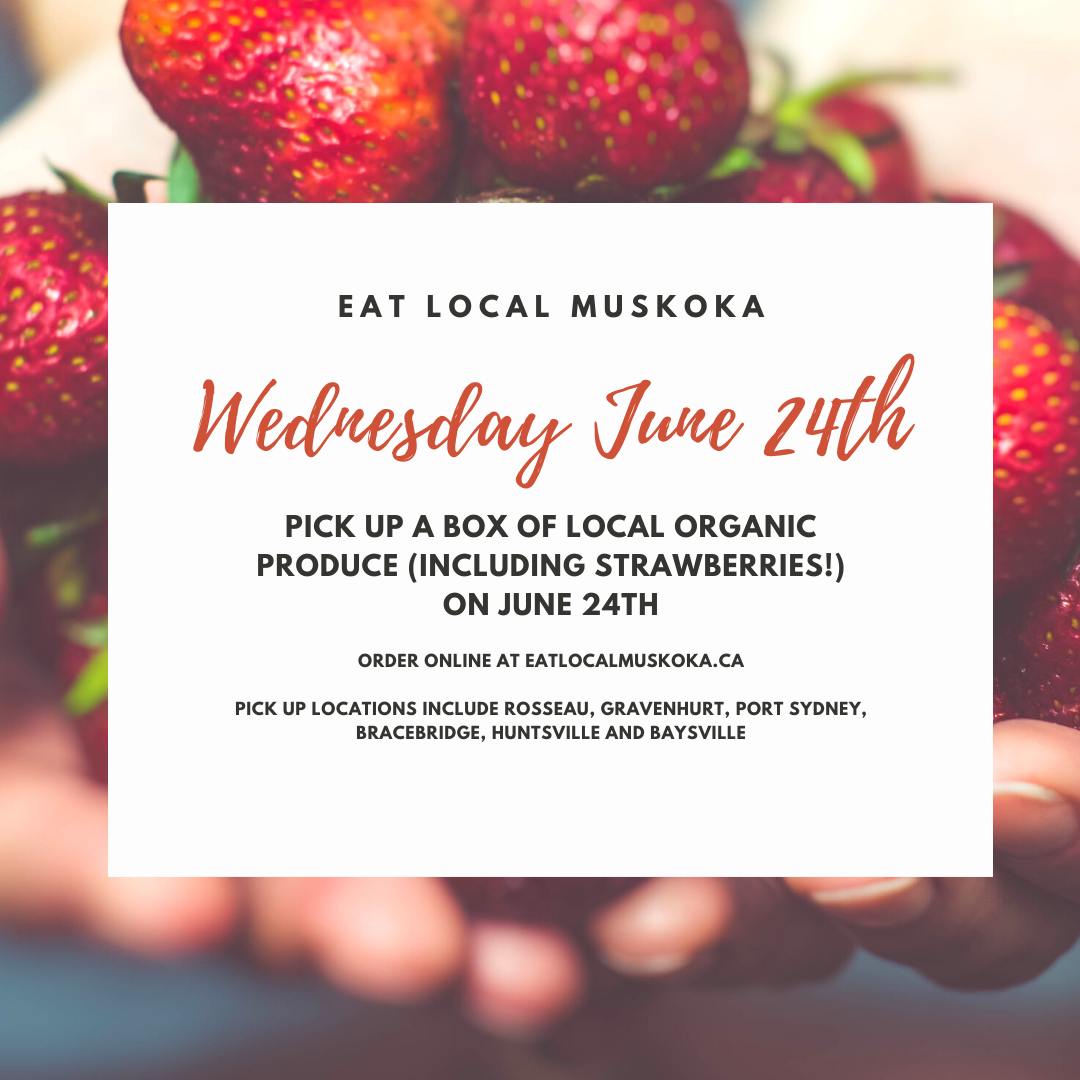 18 Jun

June 24th – Strawberries and pasture raised meats

Hello again friends,

We have some good news to share for everyone on our waitlist, as well as those that just can't wait an extra week until our summer boxes start on July 1st!

One special Local Food Box for June 24th – including green beans, salad mix, head lettuce, mizuna, radishes, green onions and strawberries!

Thanks to everyone that made this Box possible! Stay tuned for future pop-up orders this season!

As luck would have it, Colin's Organic Strawberries all seem to be ripening up during our 'gap week' between the spring and summer boxes. These beauties don't wait for anyone, so we'll be putting together an extra special harvest this Wednesday June 24th for everyone interested in trying a box – and ordering a few of our other high quality products to help you avoid the gross-ery store, while supporting small scale family farmers and a 100 mile diet.

We also have available to order:
Ezra's Pasture Raised Chicken
Deposits for John's Thanksgiving Turkeys
Susan's Grass Fed Ground Beef
Raw Honey
Homemade Pickles
Homemade Sauerkraut
We have been humbled by the community support this year, and just wanted to take a second to thank all of our incredible members that make this possible. From following our new social distancing procedures and wearing masks to sharing the joys of cooking at home – we're grateful to be growing with you, and will have more to share soon about how you can help us to grow sustainably into the future!A reminder for our 8 Week Summer Box members – if you have yet to pay, please send an e-transfer to eatlocalmuskoka@gmail.com. Regular rate is $224 for the Small Box, and $304 for the Large Box.

For those on our Summer Box Waitlist – we'll be in touch this weekend about how many spots we're able to open up. We're committed to maintaining the quality and value that members have come to expect from us while growing sustainably with hands and horses.

We've been hearing some great things about our spring boxes this year, including this kind note from our member Marie:

Just wanted to give you all a big shoutout and thank you for this program! As a first time user, it was all around a great experience and I found myself looking forward to it on a weekly basis. The produce was exceptional, the price is very generous and I will definitely be making it a seasonal regular!

If you're just hearing about our Local Food Boxes, we have more information on our website, and still have a few spots left for our Fall and Winter Boxes. Sign-up online at: www.eatlocalmuskoka.ca
Spicy Radish + Baby Kale Butter Pasta 
Serves 4

Ingredients:
1 bunch of radish, sliced (not too thin)
2 cups baby kale
3 tbsp butter
3 garlic cloves, minced
1 tsp cayenne
2 tsp salt (more to taste)
1 8oz package of your favourite pasta
1 tbsp avocado oil (or your fav high heat cooking oil)
Optional: if you'd like a little more kick, keep the radish leaves and add them with the baby kale when you sauté – the prickles will melt right off!
Directions:
1. Cook pasta (according to instructions on pasta)
2. Heat frying pan with oil on medium heat. Add sliced radish + cayenne to pan and cook until browned (about 7-9 minutes).
3. When radish is browned, add baby kale and sauté for 1-2 minutes until softened.
3. Add butter, garlic + salt to pasta and mix thoroughly.
4. Add radish + baby kale to pasta and enjoy!
A twist on your classic butter pasta dish. If you like a bit of heat then you will love this recipe! Radishes are an incredibly nutrient dense (and delicious) veggie. They are full of immune boosting vitamin C and they are great for digestion (lots of good fibre!). If you find baby kale (or kale in general) too hard to eat raw, then sauté these greens for 1-3 minutes and it helps break down the fibre!