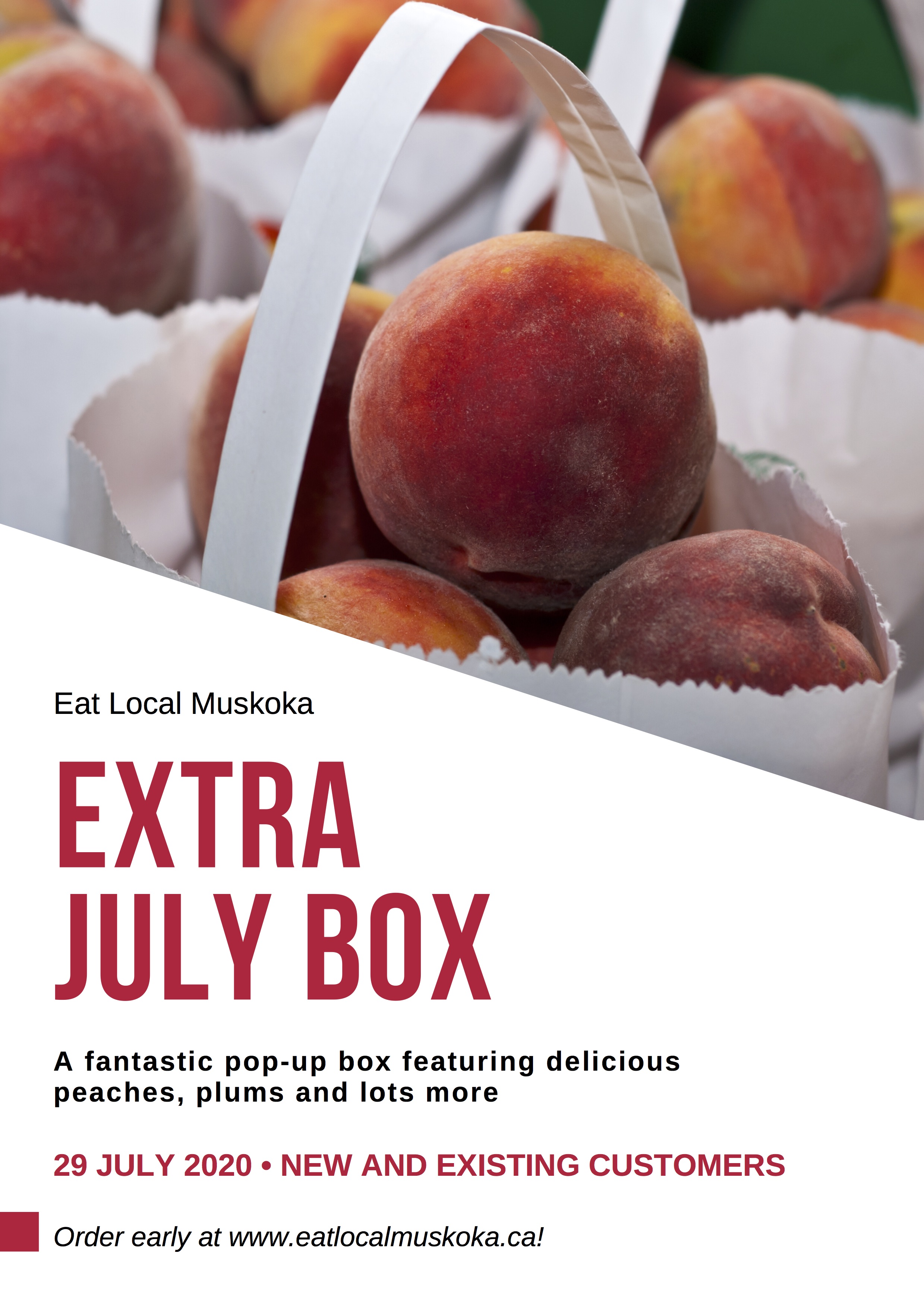 23 Jul

July 29th – Fruit Medley and Flowers

Hello again friends,

We have some good news to share for everyone on our waitlist, and for those that weren't able to commit to our full 8 week Summer Box Program – we are hosting another Pop-up Order this Wednesday, July 29th with some of our best flavours of the season.

One special note is our Fruit Medley Box – including tree-ripened Peaches, Red and Yellow Plums, as well as our own few Currants, Raspberries, and Blueberries!

We have cultivated an incredible relationship with Eva and Renee in Niagara on the Lake over the past 4 years, to get the best of their small-scale, sustainably grown tree fruits. These fruits are allowed to ripen on the tree, ensuring maximum flavour and nutrition – while providing the joy of juice running down your chin!

We also have available to order:
Bulk Peaches and Plums to enjoy and preserve!
Colin's Cosmos Bouquets
Organic Salad Mix
Raw Honey
Homemade Pickles
Pickling cucumbers – great fresh and preserved!
While we've been quiet on social media, we've been busy in the field getting food to our people, and growing as much as possible.

We are looking forward to an abundant Fall Harvest now that we've had a rain. Thank goodness! Those were a few tough weeks.

We only have 30 spots left for our Fall Boxes now, and are planning for an extended winter harvest as well – stay tuned!

If you're just hearing about our Local Food Boxes, we have more information on our website, and still have a few spots left for our Fall and Winter Boxes. Sign-up online at: www.eatlocalmuskoka.ca
This weeks recipe:
Quick pickled cucumbers
(refrigerator pickles)
Quick and easy pickled cucumbers with onion made in the refrigerator; our favorite way to use summer cucumbers!
---
INGREDIENTS
1 cup water

1/3 cup vinegar (apple cider, white, and rice wine are all good)

2 tablespoons sugar (optional)

1 to 2 teaspoons salt

sliced garden cucumbers (about 2 cups)

sliced onion or green onion (about 1/2 cup)

additional vegetables as you like (bell pepper, whole cherry tomatoes, etc.)
---
INSTRUCTIONS
In a small bowl add the water, vinegar, sugar, and salt. Stir to combine and until the sugar and salt have dissolved. Add the cucumber and onion. Taste and adjust the ingredients to your liking.

All the cucumbers should be covered in the brine, if you have lots of cucumber or are making a big batch, make more brine.

Let the mixture rest in the fridge until you are ready to eat. The flavors develop over time, so an overnight soak is great but mine are normally gone by dinner.
---
NOTES
I love adding the sugar and my mom does too, but my grandma doesn't add that much (she only adds a few teaspoons). I say try it and see what you like.

White vinegar is the traditional vinegar for this recipe and a great place to start. If you know that you like apple cider or rice wine vinegar they are also good.

You really can't mess this up. Just adjust to taste and enjoy!

The pickles will last at least a week in the fridge but get less crisp as time goes on.

You can reuse your brine a time or two, just add more cucumbers!

A Few Helpful Hints

-It takes about 1 pound of cucumbers to fill a quart jar regardless of size, if kept whole.

-1 bunch of dill is enough for 10 lbs of cucumbers.

-It is best to can your pickles within a few days of picking