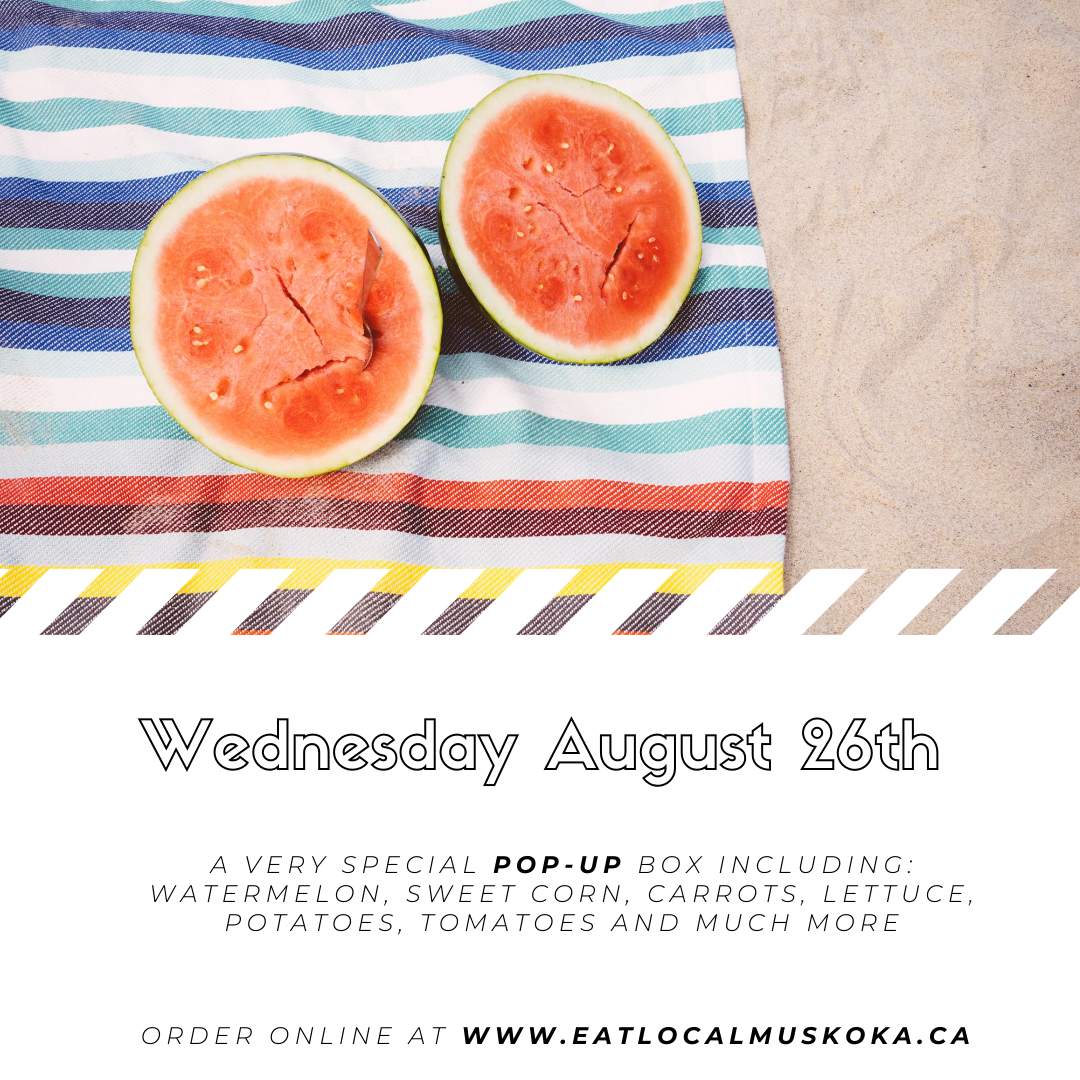 16 Aug

August 26th – Sweet Summer Harvests!

Hello friends!

We have some good news to share for everyone on our waitlist, and for those that weren't able to commit to our full 8 week Summer Box Program – we are hosting another Pop-up Order next Wednesday, August 26th with some of our best flavours of the season.

It's hard to believe, but here, in the heat of the summer, we have hit the halfway point of our farming season. All of the efforts of planning, starting seeds, weeding and watering are now starting to pay off, and for you – that means enjoying the highest quality food we can grow organically and locally, and providing the opportunity to preserve some for the winter!

We have cultivated an incredible relationship with Eva and Renee in Niagara on the Lake over the past 4 years, to get the best of their small-scale, sustainably grown tree fruits. These fruits are allowed to ripen on the tree, ensuring maximum flavour and nutrition – while providing the joy of juice running down your chin!

We also have available to order:
Bulk Freestone Peaches to enjoy and preserve!
Colin's Cosmos Bouquets
Deposits for ethically raised Chicken and Beef
Beets for Pickling or an amazing Borscht
A very special Local Food Box including:

Stoll Family Watermelon
Stoll Family Sweet Corn
Colin's Carrots
Colin's Head Lettuce
Ebbersol Family Potatoes
Colin's Tomatoes
and more!
While we've been quiet on social media, we've been busy in the field getting food to our people, and growing as much as humanly possible with hands and horses.
We are looking forward to an abundant Fall Harvest now that we've had a few rains. Thank goodness!
Due to the demand, we've opened up 50 additional spots in our Fall Local Food Boxes and are planning for an extended winter harvest as well – stay tuned!
If you'd like more information or to order, you can sign-up online at: www.eatlocalmuskoka.ca
This weeks recipe:

Moosewood Chilled Beet Borscht // Yields 6 servings
4 large beets
3 cups water
1 tsp. water
1 tsp salt
1 to 2 Tbs. lemon juice
2 to 3 Tbs. sugar or honey
black pepper
1 to 2 Tbs. freshly minced dill
1 medium cucumber, peeled, seeded, and grated
2 to 3 finely minced scallions
2 cups buttermilk
Optional:
1 dill pickle, finely minced
a spoonful of sour cream or yogurt
slices of boiled potatoes
chopped hardboiled eggs
roasted chickpeas
Peel and trim the beets, and place them in a medium-sized saucepan with the water and salt. Bring to a boil, lower heat, partially cover, and simmer until the beets are tender (20 to 30 minutes). Remove the beets and transfer the water to a medium bowl or container.
When the beets are cool enough to handle, grate them coarsely and return them to the water. Stir in remaining ingredients, except buttermilk and garnishes. Cover and chill until cold.
Once cool, stir in buttermilk. Taste to adjust salt, pepper, lemon juice, and honey. Serve topped with any combination of garnishes.